Sick of carrying the heavy and large Manfrotto 055 XPROB in the summer heat I recently picked up a cheap china tripod for travelling. Carbon-fiber tripod for 150$? Worth the risk of buying an unknown brand... Most reviews online were rather flimsy so here's one with some sample photos so you can get your own impression what you get from china nowadays.
Quick specs:
tripod 156cm open, ~ 35cm closed + monopod ~ 160cm open
about 1,3kg
Arca-Swiss Style mounting plate
4 sections on the legs, 2 section center column
15kg supported weight (i wouldn't want to go over 8kg...more to this later)
After using the 055 for years I had to get used to a tripod that reaches it's maximum heigth below 1,6m. The feather light 1,3kg and tiny size when collapsed to 40cm are fantastic. Carrying a tripod is absolutely not a problem anymore and it easily fits in any suitcase or photo backpack. See the picture below for a size comparison between the folded 669c and the EF 70-200 2.8 L IS
Monopod
Unscrew the detachable leg, take out the center column and you got yourself a monopod. Not sure if I will ever use it but certainly a nice to have. The setup is as easy as it gets and done in under a minute. In no way I ever felt this compromises the tripod functionality or stability.
Head
Smooth! I expected this to be the weak point since solid heads tend to be very expensive but for a Medium sized DSLR or any mirrorless it does a great job. When tightened no play or movement can be achieved no matter how hard you pull. The head can be locked either completely or with a panorama-rotation still possible. Solid head! The mounting plate is an Arca-Swiss style mount which means my L-Brackets fits neatly. Unfortunately the water bubble level which is included in the head is covered since its mounted in the front - not a big drama but why the heck would you built this part in the front, not in the back?
Tripod
The carbon-structre on the leg is not as beautiful as I have seen from other brands and I am not sure about the golden rings on the locks either. Gold, really? Some people might think it looks cool but I would prefer a matt black finish. The functionality is fantastic though. Taking a look at the locking mechanism it seems that Zomei was heavily inspired by Sirui's twist locks / GITZO's G-lock system which I adore! Great to see that Zomei implemented a close copy of those succesfully on the 669c which handled sand and dust without a problem. The middle column extends twice to reach the maximum height of 156cm / just over 61inches. Fully extended a heavy load might start to wiggle in strong winds or if you do not use a shutter release.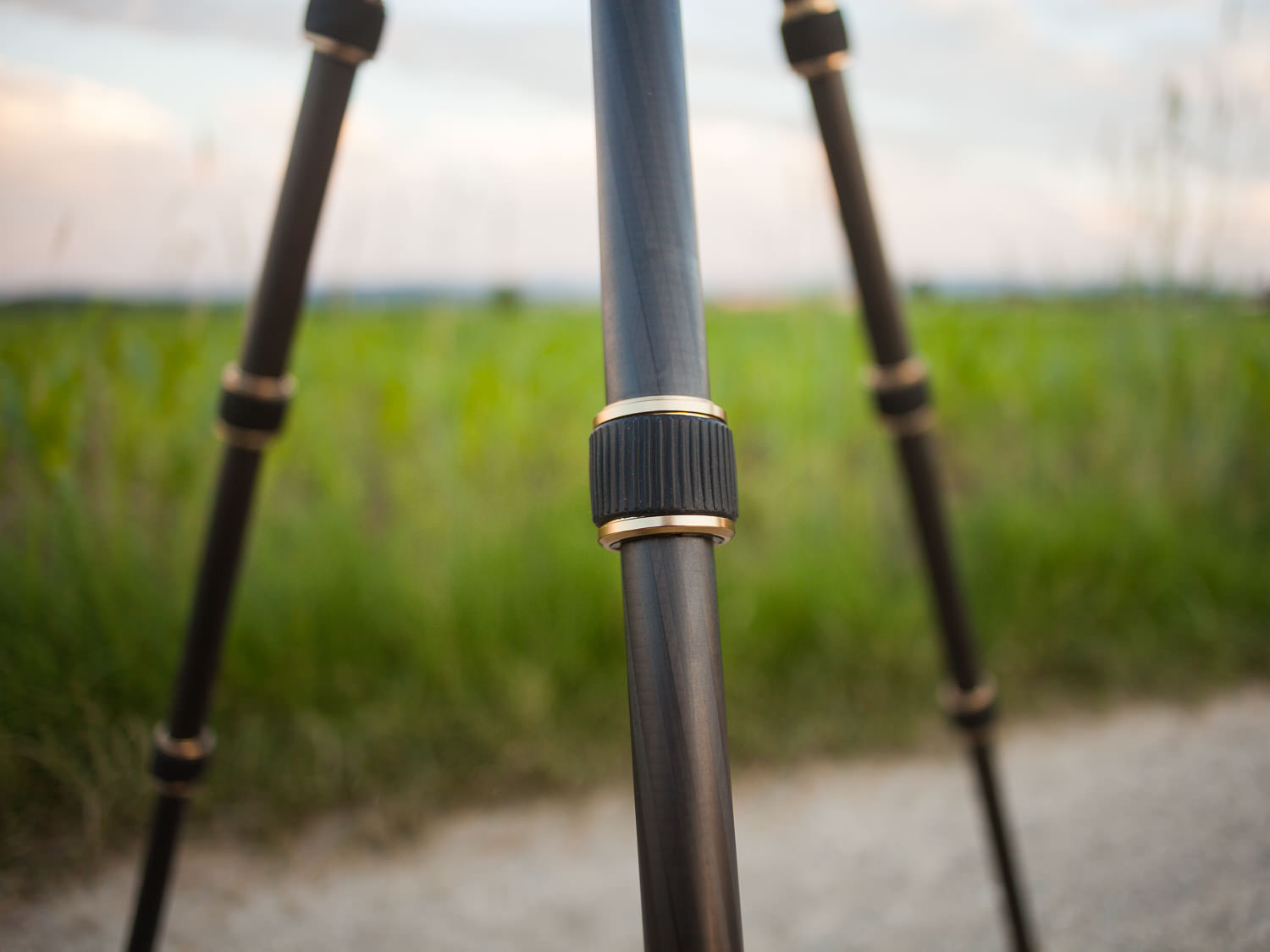 With 180° free rotation and 3 different stages to lock the angle the legs in 20°/40°/80° you can put the tripod ontop of pretty much anything and you can adjust it to stand safely ...a roof for example.
The legs show slight flex when adding a lot of weight ontop but hold a Canon 5D II with 70-200 2.8 IS easily in place. When extending the center column things get a little shaky but the tripod has no problem holding everything in place. Obviously its not the best idea to strap a big DSLR with a large telephoto on top of the 669c but it does hold it if necessary. At no point did the legs flex more than in comparison to the GITZO Travel Series 1 - that tripod might be in a different league when it comes to image, cool looks and price but in terms of functionality I didn't feel that the Zomei lacked or was far behind.
For a tripod that's just a little bigger than my 15" MacBook and weights as little as the 669c does its performance is fantastic. Take into account that the entire package (bag, head and tripod) sets you back only about 140€ while comparable carbon tripods are well over 200€, there's currently no better deal out there. It's not a GITZO which gives you the feeling you are holding a piece of handmade Italian art. I keep comparing those to and its just not fair. While the Zomei is very well built the GITZO is another level in terms of looks and feel. Fact is though it costs 1000€ and doesnt really do anything better than the Zomei.
It seems Zomei has taken a LOT of inspiration from the Sirui 1204XL and 1205. The locks, legs, middle column and head look identical to me and the specs are similar. Zomei has made their tripod a little smaller while reaching higher up thanks to a double-extending middle column. And then there's again the price...the Sirui Carbon is well over 300€ vs 140€ for the Zomei 669 carbon!
The perfect tripod? No, far from it. Small and not sturdy enough for bigger cameras but for holidays its fantastic: light, small and versatile it makes a great addittion to your kit if you already have a bigger tripod and need something small. China is upping their gaming with another brand that I never heard of but was positively surprised. Here are some snaps from the Zomei 669c: